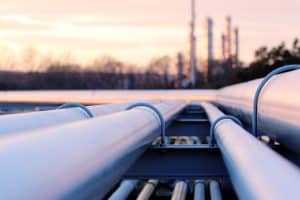 The Bismarck Tribune reports that Phillips 66 and Bridger Pipeline have announced preliminary plans to build a new pipeline which would transport crude oil from the Bakken and the Rocky Mountain production areas down to Corpus Christi, Texas. The companies report that the new Liberty Pipeline would transport 350,000 barrels of crude oil per day, but did not give details about the route the pipeline would take, or where it would originate. In a press release, Bridger Pipeline spokesperson Bill Savin told the Bismarck Tribune that there is a need for more crude oil pipeline capacity from North Dakota and Wyoming. The release also mentioned that interest from shippers would determine the final route of the pipeline.
The Liberty pipeline will involve a combination of new construction and the expansion of existing pipelines. If all goes according to plan, and the regulators approve the project, the pipeline could be operational by the fourth quarter of 2020. The Tribune story reports that North Dakota is projected to run out of crude oil pipeline capacity as North Dakota's production keeps climbing.
A new pipeline means new jobs – and new risks for injuries
There are approximately 2.5 million miles of pipeline moving energy resources throughout the United States ­– enough to circle the earth about 100 times. Industry estimates suggest that roughly 500 workers are required for every 100 miles of pipeline. This new pipeline is a boon for our oil and gas workers, because more pipelines mean more jobs, hopefully for a long time.
But pipeline construction is one of the most dangerous occupations in the U.S. Since the Bureau of Labor Statistics started reporting on oil and gas extraction fatalities in 2003, the on-the-job fatality rate has averaged more than 4.3 times the national average. In 2009, there were 25 oil and gas pipeline workplace fatalities, which was a 15% increase from the 15 deaths that happened in 2003. Because the BLS does not specifically report on pipeline construction-related fatalities, an investigative reporter for Pacific Standard magazine analyzed the data and calculated the rate herself:
"[Pipeline construction] jobs collectively are not only deadlier than most, they are also more likely to result in serious injury. Energywire reports that, from January 1st, 2015, to October 31st, 2016, oil and gas pipeline construction workers had some of the highest rates of serious injuries on the job among industries with more than 100,000 employees, and oil and gas extraction workers had the highest.
Put simply, the more we drill for oil and natural gas and the more pipelines that are built to carry these resources, the more workers die on the job."
Common causes of death for oil and gas pipeline workers
OSHA inspection reports quoted by the Pacific Standard article reveal that the many (often gruesome) causes of workplace fatalities and injuries for pipeline workers include:
Crush injuries
Burn injuries
Struck by objects such as sections of pipe
Explosions
Mechanical malfunction
If you have been injured working on a pipeline, or if you have lost a loved one in an oil and gas workplace fatality, you would benefit from working with Minot oilfield injury lawyer. We have a strong record of helping clients recover the compensation they need.
The pipeline injury lawyers at Larson Law Firm, P.C. are prepared to represent you. You may be entitled to compensation for medical bills, lost wages, and disability. We will fight for your right to get the justice you deserve. You are welcome to schedule your free initial consultation with an attorney, call our Minot office at 701-484-HURT, or fill out our contact form today.