For the last couple of years, reports regarding Takata's exploding airbags have been largely focused on Honda. A release from Reuters, published in the Huffington Post, however, claims that thousands of Ford drivers could also be at risk. To date, more than 391,000 Ford Rangers (2004-2006 models) have been recalled for potential deadly defects.
Ford Motor Co said on [January 11] it had confirmed a second death in an older pickup truck caused by a defective airbag inflator of Takata Corp and urged 2,900 owners in North America to stop driving immediately until they can get replacement parts….
Ford said it would pay to have vehicles towed to dealerships or send mobile repair teams to owners' homes and provide free loaner vehicles if needed.
(Emphasis ours)
You know the problem is serious when an auto manufacturer willingly offers to pay for the additional costs of fixing it.
How do Takata airbags explode, exactly?
The problem with Takata's airbags is severe. The inflators – the mechanisms that cause the airbag to fill with air, and protect you in the event of a crash – can actually explode. What happens is, a compound called ammonium nitrate (used to help keep the airbag nice and tight in its holder inside your steering wheel) becomes unstable as it breaks down. The breakdown is sped up when it is exposed to moisture or to temperature swings.
Now, take a look at this generic steering wheel: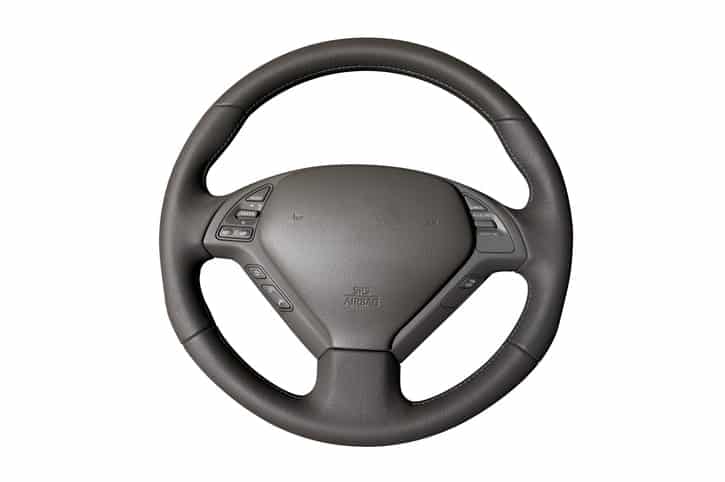 See where the airbag is located, towards the bottom? The airbag inflators in the Ford trucks cause the bags to explode out, along with metal shrapnel flying out into the car. That shrapnel is probably right at chest or neck level (depending on the driver's height and position to the wheel). When a hot piece of metal comes flying at you, you could lose an eye or have your neck cut. One victim was described by first responders as looking as though she had been shot in the face.
I drive a Ford Ranger. What do I do about the recall?
If you have a car or truck that has been recalled for a defective part, whether it's a Ford Ranger or not, you can have the part replaced for free at the dealership. You will need to make an appointment to do that, but there should be no cost to you at all.
The closest Ford dealerships to us are:
Westlie Motor Company
Prairie Ford
Red Rock Ford
MJ McGuire Company
If you feel unsafe, it might be a good idea to secure a rental – remember: Ford is paying – and have your car towed over to the dealership.
If you don't drive a 2004-2006 Ford Ranger, but still want to know if your car or truck has any recalls issued for it, the National Highway Traffic Safety Administration has a VIN tracker you can use for free. You type in the VIN, and it will let you know if you have any recalls issued for your vehicle.
At the Larson Law Firm, we want you to stay safe while you're on the road. If you sustained an injury related to a defective auto part, you may be able to make a claim for damages. Call our office in Minot at 701-484-4878, or fill out this contact form, and set up your free initial consultation with a North Dakota injury attorney today.