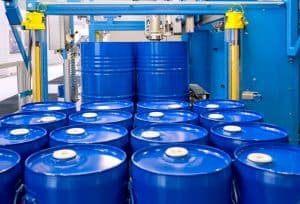 Last year, Governor Burgum gave a speech where he challenged the energy industry to do four things:
Take the Bakken to the next level
Find ways to work hand-in-hand with the coal industry
Create a zero-spill industry standard
Produce two million barrels a day
The "two million barrels" part of the challenge has been up for debate ever since. The governor himself has said it's more aspirational than literal, telling the Grand Forks Herald "We don't get there by doubling the number of wells. We get there by getting more production per well."
The quest to have wells produce more has been ongoing, which has led to refracking old wells throughout the state. Last year it was reported that wells drilled between 2008 and 2010 would be targeted, but the additional output was only between 5 and 15%. Whether that amount of oil will get us to the hoped-for two million barrels – or not – remains to be seen.
There are risks in this industry unrelated to finances
North Dakotans walk a fine line when it comes to oil and gas. On the one hand, the Bakken oil fields helped the economy for years. With competition from Texas, Oklahoma and California, the need to produce more drives a lot policy decisions. Producing too little keeps us from being competitive, but producing too much means a glut – and a bust – for the economy.
But there are risks that have nothing to do with money. Drilling for oil is one of the most dangerous jobs you can have in the industry. Silica inhalation poses an immediate and direct threat to workers involved with fracking. The Atlantic reported "In 2014, North Dakota created jobs faster than any other state. But the death rate there is higher in the oil and gas extraction sector, which has 84.7 deaths per 100,000 workers in the state, seven times the national fatality rate in the industry."
There are many ways for oil and gas workers to sustain serious, even life-threatening injuries:
Oil rig collapses
Toxic chemical inhalation
Toxic chemical burns
Site explosions and fires
Falls from derricks
Toxic pipeline spills
Vehicle crashes and collisions
It is not only workers who face risks, however. Site visitors, local residents and contractors can also be seriously injured, or develop deadly illnesses.
The oil and gas industry is important to North Dakota, and protecting its workers is what is most important to us. Two million barrels a day might be aspirational, but if the push for more crude means taking cost- and safety-cutting measures, we must be clear and honest about the dangers it could pose to workers.
At Larson Law Firm, we know what kinds of dangers you face when you're working in the patch, hauling materials, or servicing wells. We work hard to ensure your rights are upheld after you have been hurt. To find out more about our services, or to speak with a North Dakota oil field injury lawyer from our firm, please call 701-484-HURT or complete our contact form.