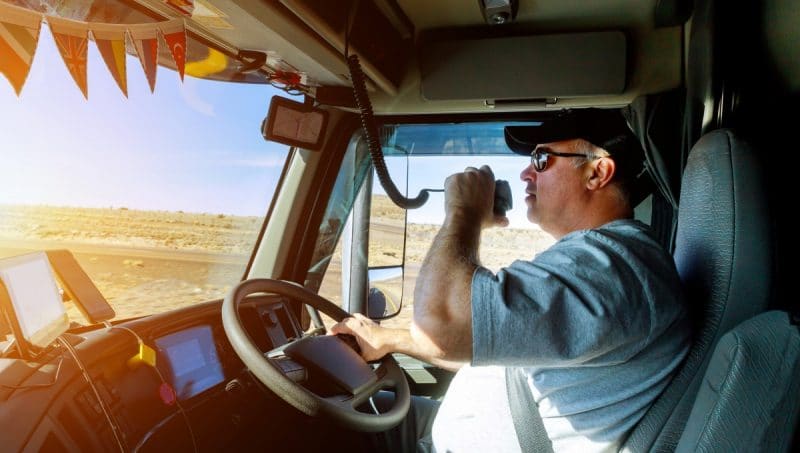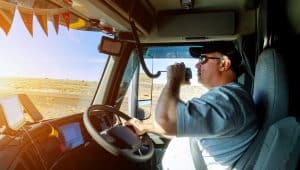 When we talk about truck accidents, we usually discuss the remedies available for other drivers or individuals who have been hurt. Larson Law Firm, P.C. doesn't just represent injured occupants in passenger vehicles, however; we also work with injured truck drivers, who often end up unable to continue working as a result of those injuries. Today, we want to focus on what leads truckers to get hurt, and what your rights are if you're injured in a collision while you're driving a commercial truck.
How much danger are truck drivers in?
Truck crashes aren't like passenger vehicle crashes. When a semi-truck collides with another vehicle or a stationary object, you can almost guarantee it won't be a "fender bender" – it'll be a serious collision, often leading to hundreds of thousands of dollars' worth of medical expenses, property damage, and lost wages. In 2017, there were "841 large truck occupant fatalities," per data from the Federal Motor Carrier Safety Administration, and 85% of the people who died (about 715) were the drivers themselves.
Yes, most fatal truck accidents lead to the death of other drivers and passengers, but truck drivers are not immune to risk. They face dangers on the road, and a collision can also be deadly for them. Those dangers can be exacerbated, too, in rural areas, which may be harder for emergency vehicles to access quickly. Per the FMCSA, "Approximately 57 percent of all fatal crashes involving large trucks occurred in rural areas, 27 percent occurred on Interstate highways, and 13 percent fell into both categories by occurring on rural Interstate highways."
The most dangerous accidents and serious risks for truckers
Some types of incidents and collisions pose a greater risk to a truck driver than others will. A semi-truck being rear-ended by a Prius is probably not going to pose a significant danger to the truck driver (though it is not impossible that that it would). The more likely scenarios that could lead to a truck driver injury include:
Truck rollovers, which can pin a truck driver down if the cab flips over
Tire blowouts, which can cause the truck driver to swerve into traffic, or roll the truck in an attempt to get back in control
Head-on collisions, including hitting stationary objects like guardrails or telephone poles
Getting stuck under low bridges, which can crush the top of the truck
Incidents like these can happen on any road at any time, but the snow and ice can complicate things, as can our wildlife. U.S. 85 near Williston sees its fair share of moose in the road, and they can cause other drivers to panic, which can also lead to a collision.
The most serious crashes are often caused by high-speed impacts. Stopping a tractor-trailer on a dime is impossible, and you risk jackknifing the truck if you try. Because of this, even truck drivers who are following along at the speed limit might be unable to avoid a collision. If a car suddenly pulls out in front of the truck, or crosses into the truck's lane and then slows down, the trucker may not be able to avoid hitting the car in front of him or her without risking a jackknife, rollover, or crashing into a different vehicle in an attempt to swerve.
Truck accidents in the oil and gas industry
Almost 40% of all fatal injuries in the oil and gas industry are the result of vehicle crashes. Given this statistic, you would think that the FMCSA would revise its policies for oilfield drivers, but the exemptions remain in place. Drivers who are fatigued pose a real danger to themselves and to others. Not only could they fall asleep and crash the truck, but if the tanker is hit in the right way, there is a greater potential for a fire or explosion.
What happens if I am hurt while driving a tractor-trailer?
If you get hurt in a truck accident, you can make a claim for compensation for your injuries. (You can also make a claim for PIP benefits even if workers' compensation covers the wreck.)  At Larson Law Firm, P.C., we represent truckers in personal injury claims and product liability claims. You can file one of these claims if:
Your injuries are severe, life-altering, and/or permanent
You are not entitled to workers' compensation
Your workers' comp isn't enough to cover the damages you sustained, and you were not at fault for the collision
You were hurt by defective truck part
Common defective product claims for North Dakota truckers include:
Defective or faulty tires
Defective or faulty brakes
Broken or malfunctioning electronic safety equipment (like electronic stability control or tire pressure warning systems)
Defective or damaged steering equipment
Airbags that fail to deploy
Malfunctioning seat belts
You can make a claim for damages that include tangible, economic losses: your medical expenses, your lost wages, your loss of earning potential, and your property damage. You can also make a claim for non-economic damages, like your pain and suffering.
North Dakota relies on truck drivers, both to support our economy and to ensure that we get the goods we need. If you are injured while driving your rig, you deserve a lawyer who will look out for you. Larson Law Firm, P.C. is proud to represent North Dakota truckers who have been hurt by cars, pickups, other truckers, trains, and farm equipment. To schedule a free consultation at our Minot or Bismarck office, please call 701-484-4878 or fill out our contact form.